CRES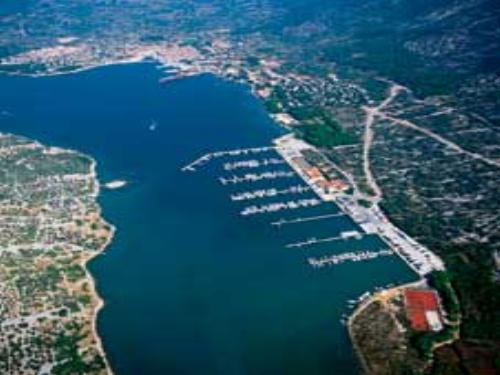 Town Cres situated on the western coast of the island Cres in the Kvarner Bay and it is the largest town on the island that is known for Lake Vrana and numerous sights from the Venetian period. Its ACI marina Cres lies in the southern part of Cres harbor, in a long sheltered bay that is protected from all wind (but a strong sirocco can cause waves). The marina has 473 berths and 120 dry berths on land all with water and power supply. Marina, opened all year round, has all the facilities you might need: reception, exchange office, restaurant and café, laundry service, toilets with showers, grocery and nautical store, parking lot... It is one of the marinas that were awarded with the "European Blue Flag", an environmental award for clean beaches and marinas.
Cres coastline has many bays and pebbly beaches but there are also steep and rough rocks on the eastern part of the island. If you decide to explore the island more, don't miss on visiting the fresh lake Vrana, village Lubenice and Eurasian Griffon – all nature sights that can not be missed.
The easiest way to reach the ACI marina Cres by car is to take the ferry from Brestova (near Opatija) to Porozina. The way via the island of Krk this is linked to the land by a bridge, and then by ferry from Valbiska to Merag. Ferry and catamaran lines are frequent, especially during the summer season. Cres is linked to Rijeka by regular bus lines. The airport of Mali Losinj is only 50 km away.
So, if you are planning to charter a motor yacht, sailing boat or a catamaran, Cres can be a great base to start from so that you could explore the Kvarner area and visit islands Krk, Rab and Pag. Popular for charter guests are also Losinj, Susak and Silba. Beyond Kvarner on the north you will find Istra and on the south Dalmatia.
Routes:
1) Cres - Predoscica (island Cres) - Rijeka - Malinska (island Krk) - Krk - Lopar (island Rab) - Rab - Lun (island Pag) - Mali Losinj - Osor (island Cres) - Cres
2) Cres - Mali Losinj - Molat - Sali (island Dugi Otok) - Zverinac (Dugi Otok) - Rab - Krk - Rijeka - Cres
3) Cres - Rijeka - Rab - Zadar - Zlarin - Sibenik - Stomorska (island Solta) - Hvar - Stari Grad (island Hvar) - Bol (island Brac) - Milna (island Brac) - Split - Trogir - Vodice - Kornati islands - Sali (island Dugi otok) - Molat - Mali Losinj - Cres